Are you ready to strike up some unforgettable fun? It's time to lace up those bowling shoes and unleash your inner striker because we've got incredible bowling party ideas designed exclusively for adults!
Bowling isn't just for kids anymore – it's the perfect way to gather your friends, coworkers, or family for a fantastic time filled with laughter, friendly competition, and a dash of nostalgia.
Whether you're a bowling pro or just looking for a unique way to celebrate, these ideas will have you rolling in excitement. Let's explore the world of adult bowling parties and discover how you can turn your next get-together into a striking success!
Our top 9 recommendations:
1. Retro Bowling Night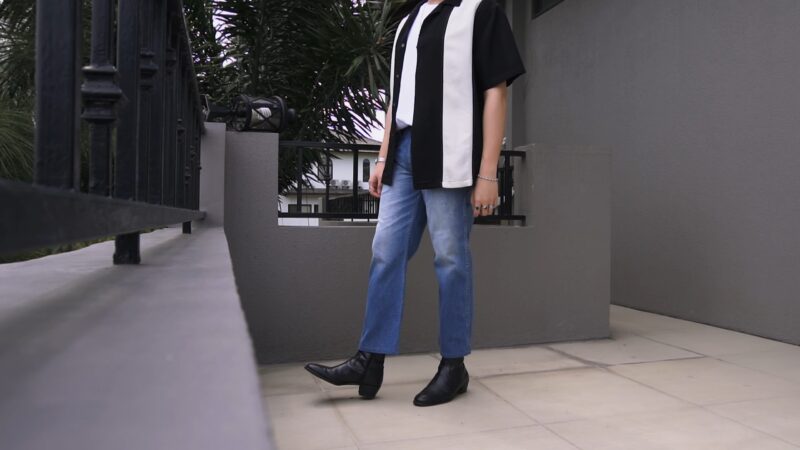 The 70s and 80s were the golden age of bowling alleys. Why not take a trip down memory lane and host a retro-themed bowling night? It's all about neon lights, disco balls, and funky music.
Dress Code: Vintage Vibes
Dressing up can be half the fun. Encourage guests to wear vintage bowling shirts, bell bottoms, and platform shoes. You can even offer a prize for the best-dressed bowler. Not only will this set the mood, but it will also make for some fantastic photo opportunities.
Music: Disco Fever
No retro night is complete without a killer playlist. Think Bee Gees, ABBA, and Donna Summer. Many bowling alleys have sound systems that allow you to play your own music. Create a playlist of disco hits and let the good times roll.
2. Midnight Moonlight Bowling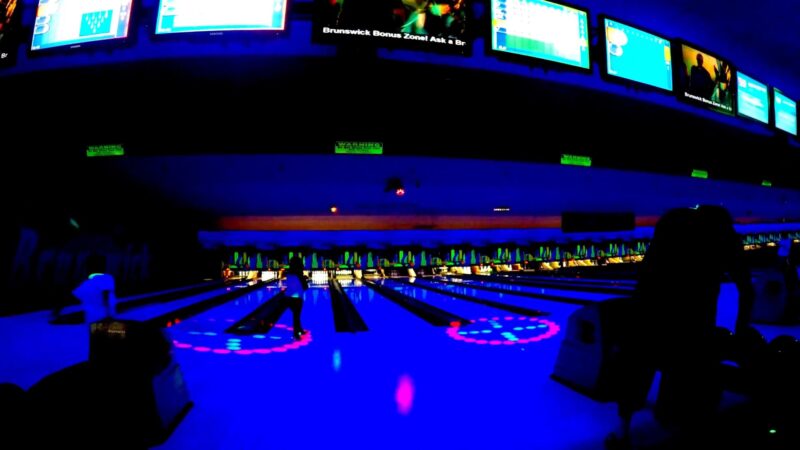 There's something magical about bowling under the glow of neon lights. Midnight moonlight bowling offers a unique experience, where the regular lights are turned off and replaced by black lights, lasers, and fog machines.
Atmosphere: Cosmic Ambiance
The ambiance is what sets Moonlight Bowling apart. The pins, lanes, and even the bowling balls can glow in the dark, creating a surreal and mesmerizing environment. This setting not only adds a fun twist to the game but also levels the playing field, as the usual lane markers are harder to see.
Refreshments: Glow-in-the-Dark Drinks
To complement the theme, serve drinks that glow under black light. Tonic water, for instance, glows blue due to the quinine in it. You can make a variety of cocktails using tonic water, or simply serve it with a slice of lime. Remember to use clear or neon-colored cups to enhance the effect.
3. Competitive Bowling League Night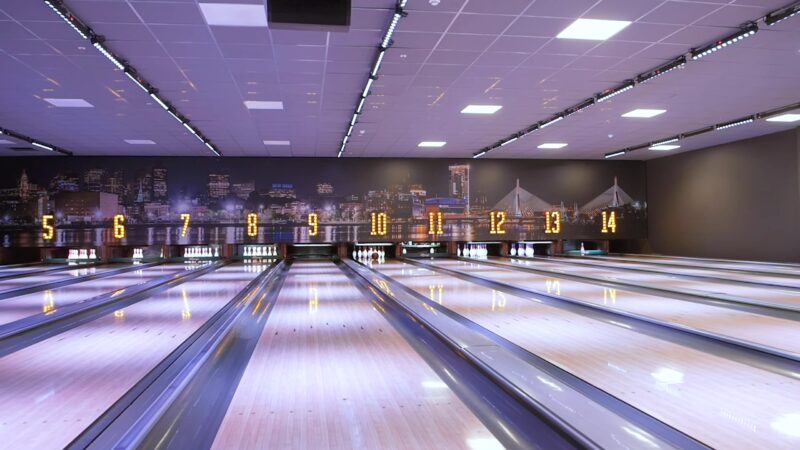 For those who take their bowling seriously, or just love a bit of friendly competition, a league night can be a thrilling experience. Form teams, set up a mini-tournament, and let the best team win.
Tournament Style
Start by dividing your guests into teams. Depending on the number of attendees, you can have multiple rounds leading up to the finals. To make things more interesting, introduce handicaps for seasoned bowlers or advantages for beginners. This ensures everyone has a fair shot at winning.
Prizes
While the thrill of victory is a prize in itself, tangible rewards can up the ante. Consider trophies, gift cards, or even quirky items like custom bowling pins. Not only will this motivate players, but it also adds an element of excitement to the night.
4. Gourmet Bowling Bash
Who says bowling alleys are only about greasy finger foods? Elevate your bowling party with a gourmet twist, offering a spread of delectable dishes and drinks that will make your guests feel like they're in a five-star restaurant.
Food: Beyond the Usual
Swap out the usual nachos and hot dogs for more refined options. Think mini sliders with gourmet toppings, artisanal flatbreads, and a charcuterie board. For dessert, consider mini cheesecakes or chocolate fondue with strawberries.
Collaborate with the bowling alley's kitchen or bring in an outside caterer to ensure the menu is top-notch.
Drinks: Crafted Concoctions
Instead of the typical draft beer, offer a selection of craft beers, wines, and signature cocktails. You could even have a mixologist on hand to whip up personalized drinks for your guests. For non-drinkers, a mocktail menu with refreshing options can be a hit.
5. Movie-Themed Bowling Night
Everyone loves a good movie, and combining it with bowling can make for an epic night. Pick a classic film or a recent blockbuster and theme your party around it. From "The Big Lebowski" to "Grease", the possibilities are endless.
Decor: Setting the Scene
Transform the bowling alley into a movie set. If you're going with "The Big Lebowski", for instance, have rugs laid out (they really tie the room together), and cardboard cutouts of the characters. For "Grease", think 50s diner decor with jukeboxes and vinyl records.
Which Activities to Incorporate?
Incorporate elements from the movie into the night's activities. For "The Big Lebowski", you could have a White Russian cocktail station. For "Grease", maybe a dance-off to the movie's iconic songs. It's all about immersing your guests in the film's universe.
6. Relax and Bowl Spa Night
Bowling doesn't always have to be high-energy. Imagine a night where you can bowl a frame and then get a massage. A spa-themed bowling night is perfect for those looking to relax and indulge.
Pampering Stations: Bowl and Unwind
Set up stations where guests can get mini treatments between games. This could include chair massages, hand treatments, or even aromatherapy sessions. Ensure you have professionals on hand to give your guests the best experience.
Refreshments
Serve drinks and snacks that align with the relaxing theme. Herbal teas, infused waters, and light snacks like cucumber sandwiches or fruit platters can be perfect. You could also have a DIY face mask station where guests can mix their ingredients and pamper their skin.
7. Around the World Bowling Fiesta
Travel the world without leaving the bowling alley! An "Around the World" theme can be a delightful way to experience different cultures while enjoying the game. Each lane or section can represent a different country, complete with its unique ambiance, food, and music.
A Global Journey
Decorate each lane or section to represent a specific country. For instance, one lane could be decked out with Japanese lanterns and cherry blossoms, while another might have Eiffel Tower miniatures for a French vibe. Use flags, posters, and other props to make each area distinct and immersive.
A Culinary Tour
Offer snacks and drinks that are iconic to each represented country. Sushi rolls for Japan, croissants and wine for France, tacos, and margaritas for Mexico, and so on. This not only adds to the theme but also gives guests a delightful culinary experience as they move from one lane to another.
8. Rock 'n' Bowl Concert Night
Unleash the rockstar within at a Rock 'n' Bowl party. This theme is all about loud music, electric vibes, and letting loose. It's perfect for those who love to combine their love for music with the fun of bowling.
Live Band: Rock On!
Hire a local rock band or a cover band to play live music. The energy of a live performance can elevate the entire experience. Set up a staging area near the lanes so bowlers can jam out while waiting for their turn or simply enjoy the concert vibes.
Dress Code: Rockstar Attire!
Encourage guests to dress up as their favorite rockstars or in general rock attire. Think leather jackets, band tees, studded accessories, and wild hairstyles. A fun addition could be a makeshift tattoo station with temporary tattoos for guests to rock the complete look.
9. Charity Bowl-a-Thon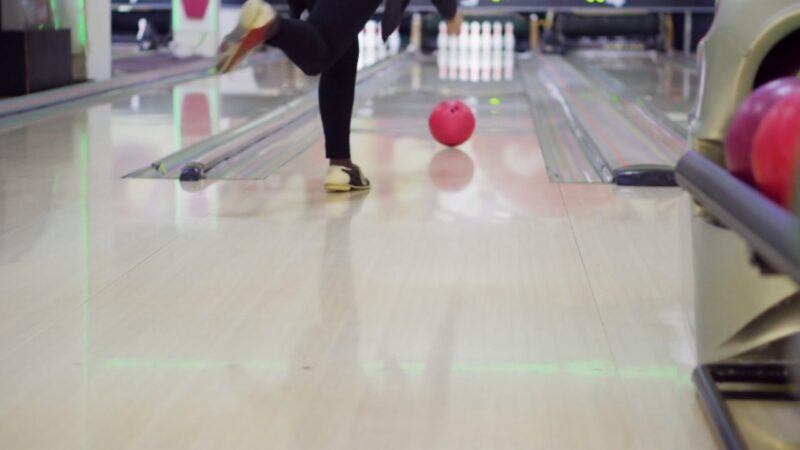 Bowling can also be a means to give back to the community. Organize a Bowl-a-Thon where participants can raise money for a chosen charity. It's a wonderful way to have fun while supporting a good cause.
Pledges and Donations
Guests can seek pledges for every pin they knock down. For instance, if someone pledges $1 per pin and the bowler scores a total of 100 pins throughout the night, that's $100 to the charity. Alternatively, you can have a flat entry fee, with all proceeds going to the chosen cause.
It's More than Just Bowling!
Use this opportunity to raise awareness about the cause you're supporting. Invite representatives from the charity to speak or set up informational booths. It's a chance to educate attendees and inspire them to continue their support beyond the event.
FAQs:
How can I make the atmosphere more festive?
Decorate with bowling-themed items, colorful balloons, and personalized banners to set the mood.
What kind of food and drinks should I offer at the party?
Finger foods, sliders, nachos, and a selection of cocktails, mocktails, and soft drinks are great choices.
Are there any games suited for adults?
Yes, games like "Bowling Pong," "Bowling Charades," and "Bowling Trivia" can keep everyone entertained.
How can I ensure that everyone has a great time, even if they're not skilled at bowling?
Plan for casual activities like karaoke, photo booths, or a dance floor to keep non-bowlers entertained.
Can I arrange for a DJ or live music at the bowling alley?
Check with the bowling alley if they allow outside entertainment, and if so, a DJ or live music can enhance the party atmosphere.
Conclusion
With these diverse themes, your bowling party is bound to be a memorable event. Whether you're taking a trip around the world, rocking out to live music or bowling for a noble cause, the key is to tailor the experience to your guests' interests and ensure everyone has a fantastic time.
Stay tuned for more innovative ideas to make your bowling parties even more spectacular!